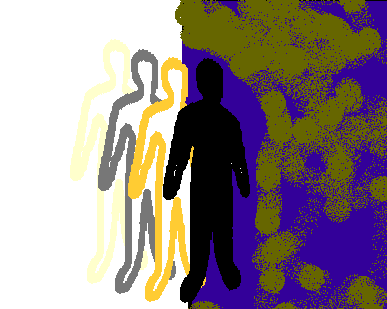 I must not fear.
Fear is the mind-killer.
Fear is the little-death that brings total obliteration.
I will face my fear.
I will permit it to pass over me and through me.
And when it has gone past I will turn the inner eye to see its path.
Where the fear has gone there will be nothing.
Only I will remain.

Bene Gesserit Litany Against Fear - From Frank Herbert's Dune Book Series
Tonight I gave myself a rare treat by getting a long overdue full body massage. Whoa! Let me tell you that I must be doing major damage to my body. I'm coming home feeling like I've been through a war zone. My massage was given by Ed, someone I met recently at a local flea market. He's a professional masseur and had been providing demonstration massages at the flea market for a low price. I sat down in his chair and got a five minute massage for about three dollars. At the end of the massage I thought he did an excellent job, so I scheduled an hour long session for tonight.
Going to my appointment tonight though, I wasn't sure what to expect. I'd developed some trepidation about going as a million doubts eased across my mind. I was definitely anxious and wanted to back out. Would Ed try to still my money? Would I encounter foul play? As I drove Uptown to an old house off of Front Street that had been converted into office spaces for businesses. I learned the other two offices in this building we lawyer-occupied facilities and my fears quickly eased. If the law offices were in the building, I could always yell out for help! Needless fears, all of them.
I was a few minutes early, Ed was still setting up and asked me to wait a moment.When he was ready for me, I entered a nice comfortable space filled with scented candles and soothing bird songs. There was even a small fountain in the corner. The table was set up in the middle of the room. As he excused himself so I could disrobe, I felt relaxed enough to enjoy the session. What I didn't anticipate was the excruciating pain I was going to go through.
Ed preformed a deep tissue massage and I admit I'm a bit tense and out of shape, but I soon learned just how out of shape. As he laid into me, I felt the ache of strained and unused muscles tear away! UGH! ARRR! Oooo! I was embarrassed. I screamed once or twice, but eventually was able to allow my muscles to loosen. He even worked on my feet, which I'm surprised I allowed him because my feet are a no-no zone. I absolutely hate anyone touching or getting near my feet. This created a huge problem for me a while back because I had an ex-boyfriend who had a serious foot fetish. He loved being stimulated by feet and would love caressing mine, doing things I would never tell anyone. Ick! Needless to say, I was glad when we broke up!
By sessions end I felt refreshed and semi-human. Time seemed to fly by as my hour felt like two minutes. I scheduled another appointment for next week knowing I need to get into better shape. I'm hoping this will be the impetus to get me motivated. Ed recommended stretching techniques and suggested I join a gym (something also long overdue) to help with my problems. "OK," I thought. "I can do this." What's a little bit of pain compared to the lasting results of a healthy body? Stay tuned for more...